Steeples: Spires, Belfries, Lanterns and More!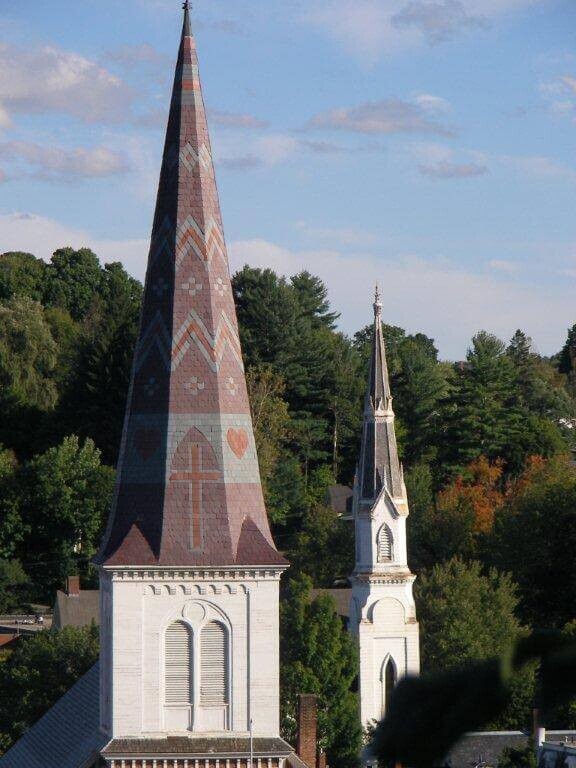 Steeples are memorable and impressive, just like the craftsmen responsible for their repair and maintenance. Hats off to the Steeplejacks near and far! What do you know about a steeple's anatomy?…
A steeple, in architecture, is a tall tower on a building, topped by a spire and often incorporating a belfry and other components. The spire is the highest section and meant to in"spire" distant viewers. Spires may be square or octagonal, as determined by their lantern or belfry. Below the spire may be a lantern. Less than half of New England's steeples have lanterns. They tend to be the most ornate section of any steeple. The belfry sits above the tower and houses the bell. The belfry may be open or enclosed by louvers, allowing the pealing of the bell to be heard. The lowest steeple section that rises out of the building is the tower. If a steeple has clocks, they are usually in the tower section. Steeples can have all of these features or just one. They come in all shapes and sizes.
Want to know more about the history of the craft, read on here.
And watch the fearless Fred Dibnah is this video documentary here.
Are you a Steeplejack? We'd love to hear your story. Contact nan@newenglandslate.com.
A special thanks to our good friends at Southgate Steeplejacks of Barre, Vermont.
To learn more about the restoration in the photo above, click here.
Thank you for reading.
Next Blog Post
New England Slate's Eagle Quarry & Mill in Poultney, Vermont.