New England Slate in Architectural Record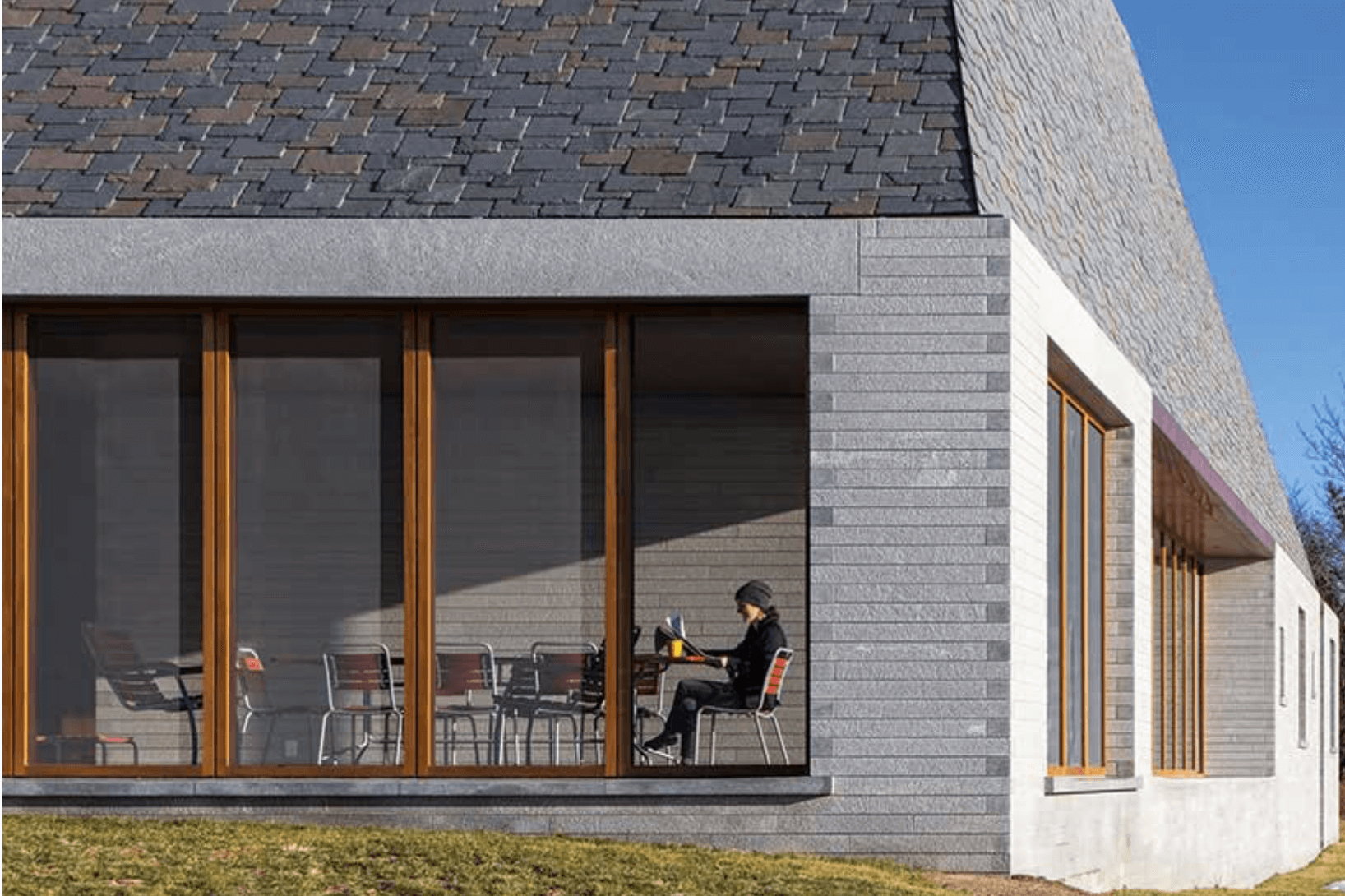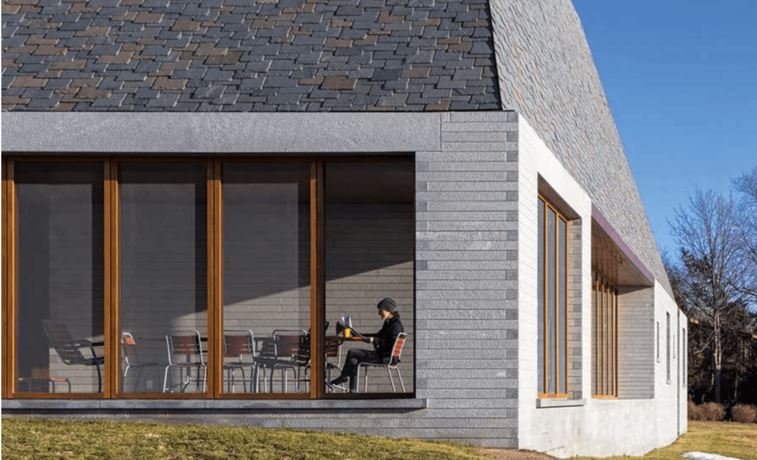 Architectural Record, magazine
featured article April 1, 2019
Pilar Viladas, author
Pilar is a former design editor of The New York Times, writes about design & architecture.
Studio Rick Joy, architect
Bayhouse
Slate Details, New England Slate
Vermont Grey blend of 16″, 18″, and 20″ tall, by 10″, 12″, and 14″ wide, by 1/4″ – 3/8″ thick.
Below are excerpts from the article. The full article can be read here.
"Since Rick Joy started his practice in Tucson, in 1993, he has been creating buildings that deftly balance modernist formal rigor with sensitivity to place. His houses have ranged from rammed-earth desert structures such as the Adobe Canyon house in Patagonia, Arizona (2005), to a Vermont farmhouse in Woodstock, a RECORD house (April 2009), where the shingled roof and side walls contrast with the stone shear walls at each end—a striking yet seamless blend of contemporary form, rich materials, and local tradition."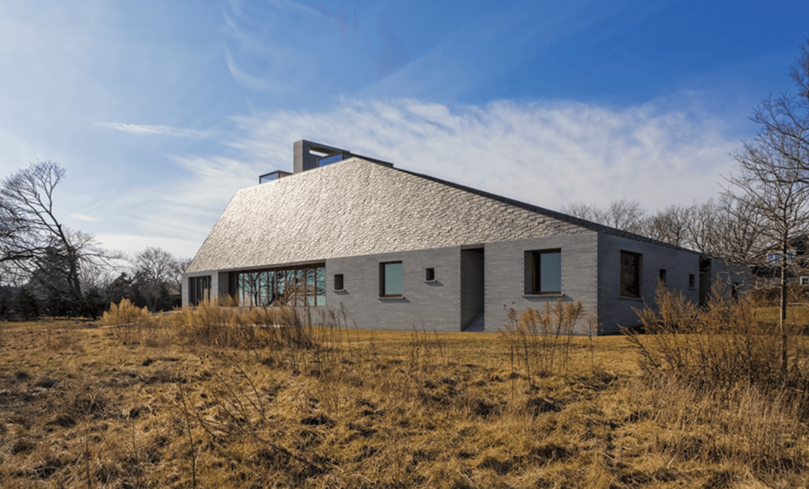 "That approach is at the heart of his recent Bayhouse, a spacious single-story residence set on two acres of waterfront property in a small coastal town known for its picturesque charm. The clients, a mature couple, wanted a modern house, but the town favors traditional architecture for new buildings. "I knew that Rick would design something modern that would be a good neighbor," the wife says. So Joy and his studio looked for cues in the historic houses of the Northeast, with their clapboard or shingled walls and pitched roofs that shed snow, but didn't take them literally."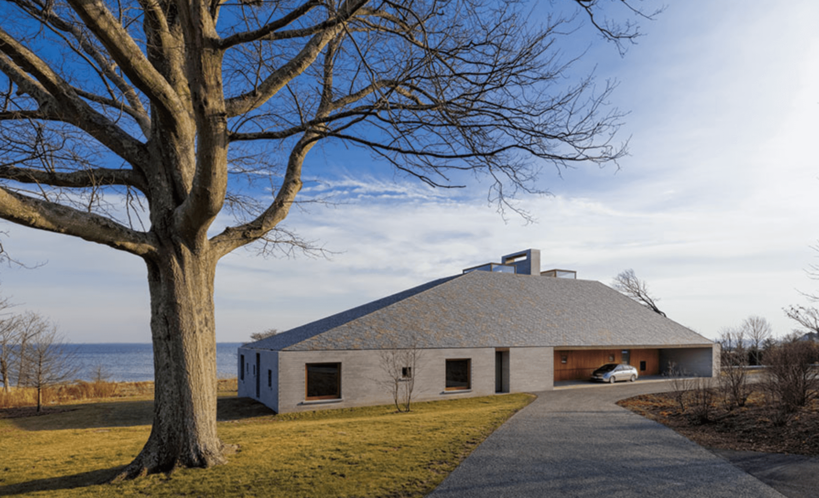 "The steeply pitched slate roof is another reference to the past, but its asymmetrical hipped form and exaggerated height are contemporary moves," Joy explains. The asymmetrical angles of the roof became "a self-inflicted design challenge," says Joy, with conventional courses of slates impossible."


"Instead, the architects created eight different shingle sizes and devised a set of patterning rules that produced a seemingly random effect. Combined with the slate's natural color variations, the resulting surface is both subtle and complex."
To read more on the complete slate roof design process, please read our blog.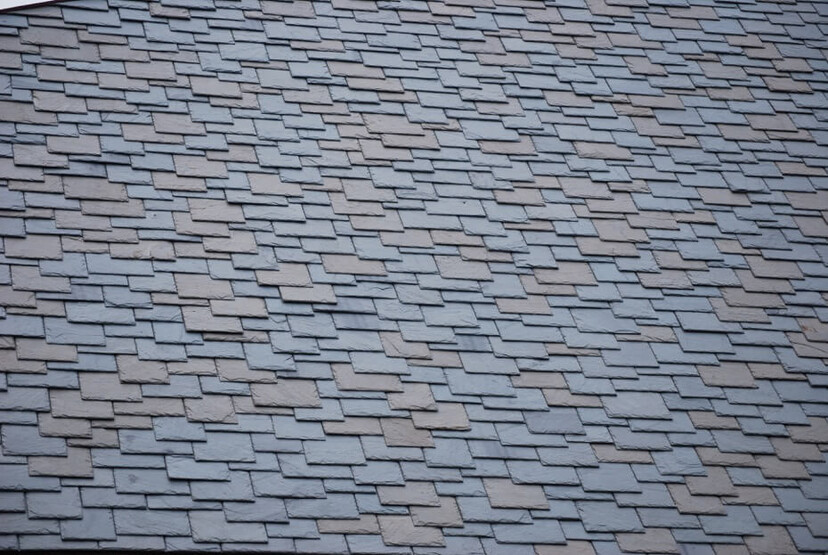 "And then there is what can't be seen: gutters hidden between the edges of the roof and walls, revealing themselves only when they span the stone walls (water drains into pipes that are concealed in the house's corners) or the entirely invisible geothermal pumps that provide air-conditioning and heat for the radiant floors."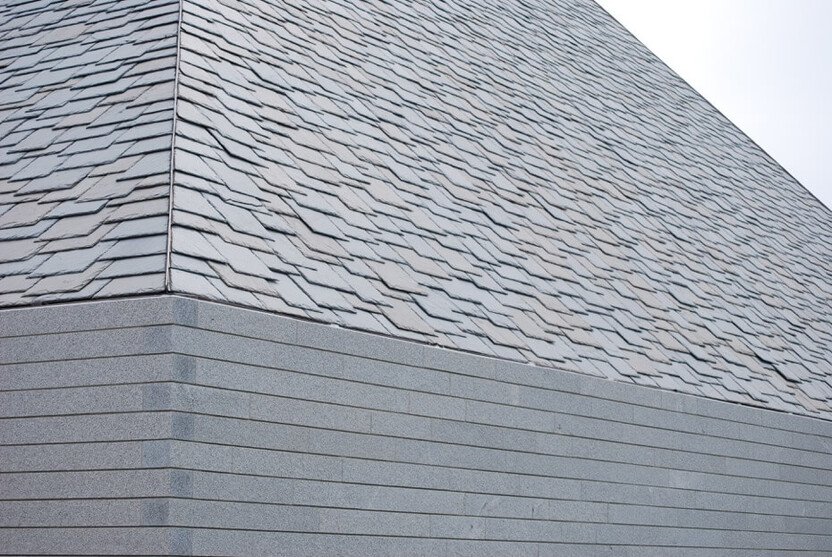 "Though the house clearly stands out from its more conventional neighbors by virtue of its unusual roof and the precision of its materials and detail, the design "attempts to be a good citizen, identifying with the spirit of the place," notes Joy, without trying to imitate them. Not only has he created an elegant but unpretentious house, he has met his own goal of making architecture that is "at once emotional, existential, and super-well crafted."
The full article in Architectural Record can be read here.
Please read our blog for details on the design process, including the inspiration photo of the Forest Chapel in Japan.
Call 802-287-2295 to get started realizing your slate vision.
Thank you for reading! Nan
Next Blog Post
Japanese architect Junya Ishigami has completed this year's Serpentine Pavilion, a craggy structure he describes as a "hill made out of rocks". The latest Serpentine Pavilion, located on the lawn outside…