How We Work With You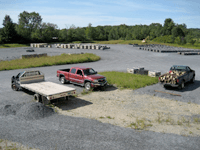 Often I answer the phone and speak to a new customer that is curious about our process and "how it all works." Well, it's pretty simple and yet complex at the same time. Let me explain…The process begins by gathering information and identifying the specifications for the slates and the overall desired look for the roof – see Roof Styles in the About Slate section. All of the characteristics of the slates are discussed and samples may be sent. Often we are asked to match existing slates for repair work or for new additions so we request samples to identify the stone. Sometimes we can determine the source quarry of the sample and offer replacement slates from the same or use an alternate quarry with virtually identical qualities if the original one is abandoned.
On occasion roofers share construction plans with us to request a roof area estimate or to confirm their estimate and to seek input on the use of different sizes and/or colors. A multi-colored graduated roof is a good example of a project where shared information and a close working relationship can be very beneficial to both parties. There are many details to consider in an order for such a roof and we encourage good communication between roofer and supplier. In general we think through the details for all our customers regardless of the size or complexity of the project. We ask if special slates (starters and hip/ridge) or fasteners (copper nails, slate hooks) and tools (hammer, ripper, cutter) are also needed.
Once all the details for the slates are defined we can quote a price. For first time customers we request payment in advance or a significant deposit to signal commitment. Credit is usually extended to existing clients. As your order is processed the finished slates are packaged on wooden pallets or crates and banded tight and the pallet is tagged for identification. We usually make the arrangements for delivery but you are welcome to schedule trucking on your own if you wish, or drive to Poultney and pick up at our shop. In most all cases a forklift is needed to unload the pallets.
Finally, we maintain complete computer records of all communications with our customers and requests for quotes from prospective clients. This history is invaluable when researching old quotes and past jobs and often eliminates the need to exchange samples. We look forward to hearing from you.
Best,
Nan Bambara
Next Blog Post
In July of 2008, New England Slate moved into our "new" office and shop in Poultney, Vermont. It's hard to believe that almost 10 years has past. It's been a great place to come to work everyday. I've…